"The support that Mukomeze gives me has helped me so much. Thanks to the sponsorship I was able to start my own company and I am now selling my self-grown harvest."
Goal of sponsorship
The goal of a sponsorship for a survivor of sexual violence is empowerment so that she/he achieves economic independence and regains her/his self-confidence and dignity. As a result, the sponsored woman or man can continue on her/his own. Sponsorships also tackle poverty, disease, stigmatization and the trauma of the survivors. In total, it concerns 312 survivors of genocidal sexual violence who have been identified as such.
We have empowered about 20 survivors over the years. On average it takes a number of years before a sponsored man or woman can continue on their own. At the moment there are approximately 75 survivors in our sponsor project. We are always looking for new sponsors so that we can guide even more survivors on their way to independence.
Sponsorship
Support a survivor by making a financial contribution to her or his livelihood so that they can thrive and grow towards empowerment;
You will receive a report / message about what has been done with your contribution halfway through each year;
At the beginning of each year you will receive a personal message from your sponsored woman or man (you can also communicate with him / her yourself);
A sponsorship can be concluded from 30 euros per month (in case you wish to sponsor someone to attend university the amount is 90 euros per month). Sponsoring a survivor with several people or as an organization is also possible;
Solace Ministries monitors (in collaboration with Mukomeze) the progress of the sponsored man or woman and knows when they are empowered.
"I would like to thank my sponsor for her support. I am still overwhelmed that through the love of God I came into contact with my sponsor."
More information?
Contact us to arrange sponsorship or for more information. Do you want to become a sponsor right away? Then complete the mandate direct debit form and send it to us.
"I think it's so great that someone who lives so far away thinks of me and thinks I'm worthwhile. Thank you unbelievably."
Donate
Help the women of Rwanda. Support them with a monthly or one-time donation. Look here to learn more about donating to Mukomeze.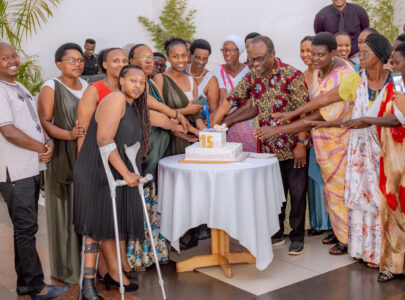 [Augustus 2023] On 18 August we celebrated 15 years of Mukomeze-Solace Ministries in Rwanda. Below follows an impression of ...
Read more

→